Atlas Weyhausen GmbH
Atlas Weyhausen GmbH has over 40 years of experience in manufacturing compact wheel loaders for a range of different applications. The distinctive ATLAS wheel loaders are appreciated for their reliability by customers all over the world: in the construction industry, horticulture and landscape gardening, agriculture, materials handling and recycling. As an independent, traditional German SME we still uphold the same values that are the foundations of our success. These include employing competent and motivated people and using best quality components to make first-class quality products. At the same time, we have the flexibility to adapt to market changes and remain innovative. Our organisation has a streamlined structure that enables it to operate very efficiently and offer a comprehensive portfolio of products at fair market prices. Also, and equally importantly, we foster close relationships - both within the organisation and with our customers and suppliers.
Company details
Visbeker Straße 35
,
Wildeshausen
,
D-27793
Germany
View in map
Find locations served, office locations and our distributors
Business Type:

Manufacturer

Industry Type:

Market Focus:

Globally (various continents)
This company also provides solutions for other industrial applications.
Please, visit the following links for more info:
Our range of compaction rollers is founded on these same business principles. ATLAS compaction rollers boast solid and innovative technology with perfectly designed operation and service concepts. Five vibration rollers in the 7 to 14 ton weight classes and three tandem rollers with operating weights of 2.4 to 3 tons perform many different applications in road construction, industrial construction, dam construction and diking.

ATLAS Weyhausen hasn't just made its mark on the compact wheel loader market, but also in the compaction roller technology segment. For decades now, the ATLAS brand has represented power, precision and reliability to customers in these markets.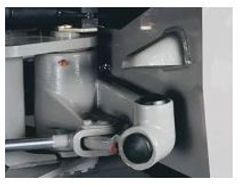 Articulated-pendulum joints (Articulated-swivel joint)are used to provided a movable link between the rear and front frames of agricultural and construction machines. The machine can be steered by means of an angular movement around a horizontal axis, while the rear carriage can swing in the vertical axis. The advantage of the articulated-swivel joint is the fact that the front and rear carriage run on one track. The attachment can be positioned precisely without moving the entire machine but simply be swivelling the front carriage. The oscillation offsets unevenness in the ground and creates even wheel pressure. In combination with rigid axles, good cross-country mobility is provided. The structurally low position of the point of rotation of the swivel joint in conjunction with the low centre of gravity of the machine provides good stability.

In Weycor wheel loaders, we use robust, low-maintenance articulated-swivel joints almost exclusively in conjunction with rigid axes. With an oscillation of ±12° in the rear carriage and an articulation angle of 40°, these provide outstanding cross-country mobility, protect the ground and offer extreme manoeuvrability. With their low centre of gravity, Weycor wheel loaders have a high tilt stability even under extreme conditions. Many manufacturers limit the articulation angle to below 40° to ensure stability. With regular servicing and maintenance, the articulated-swivel joint can be relied on over a long service life. The 75e S and 75e T models are exceptions. These machines have an articulated joint and a rear pendulum axle.
The incredible flexibility of an SME, plus the extraordinary team spirit that unites our employees and suppliers, has always enabled us to maintain an excellent standard of product quality. Our organisation is a manageable size, our distributors share our mind-set and we make our decisions quickly. In the future, we intend to keep on facilitating this intensive interaction. Reliable people and reliable equipment always have been and always will be key priorities!

Together, we have managed to be successful in the market for wheel loaders and compaction rollers. Our machines are aligned to the requirements of different applications. In addition, we have the diversity standardised, customers can configure a tailor-made machine with numerous options. This is exactly our claim!
We want to tap into new markets by reliable products and advanced technical diversity. It's our duty to our customers, distributors and employees and the basis of our success.