Feucht Obsttechnik GmbH
For over 40 years, Feucht Obsttechnik has been known for innovative products in fruit harvesting technology. We are a family company from Baden-Württemberg and have developed from an agricultural machinery workshop into a sought-after specialist for the development, construction, and manufacture of fruit, mowing, and nut technology. As a progressive, globally active company, our headquarters is in Germany, with dealer branches, for example, in France, Italy, Bulgaria, Spain, Switzerland, Poland, Australia, Japan, and Canada. Feucht Obsttechnik is a family-owned company in its second generation, which is always focused on the requirements of fruit farmers and fruit processors.
Company details
Europastr. 16
,
Erbstetten
,
D-71576
Germany
Business Type:

Manufacturer

Industry Type:

Market Focus:

Internationally (various countries)

Year Founded:

2003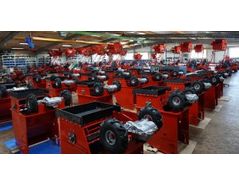 For us, the customer is the main focus of our activities. Therefore, our machines specialise in simplifying and streamlining fruit harvesting processes and at the same time maintaining the highest quality standards for the harvested fruit.

Our facilities include production and assembly on an area of 4,000 m². Over 30% of our power needs are covered ecologically and sustainably by our own photovoltaic systems.

We are proud to have developed into the market leader in Europe in the field of fruit harvesting technology thanks to this philosophy.