Hahn Machinery, Inc.
Hahn Machinery was founded by Ray Hahn in 1972 to produce its Hahn Harvester line of shortwood processors, the Industry's first mechanical tree processor. In those days, trees were delimbed and cut to length by men working with chainsaws. The process involved a lot of hard work and was inherently dangerous and finding men willing and able to do the job was difficult. With the introduction of the Hahn Harvester, the process of delimbing, cutting to length, and piling was done by one person seated in an enclosed cab. Production was dramatically increased, labor requirements decreased, safety greatly enhanced, and the trend towards total mechanization of the logging industry was launched. Over the ensuing years, the Hahn Harvester line was expanded to include mechanical processors, designed for large timber found in the Pacific Northwest and small single grip harvester heads for plantation thinning applications throughout the U.S. and Canada.
Company details
Business Type:

Manufacturer

Industry Type:

Market Focus:

Internationally (various countries)

Year Founded:

1972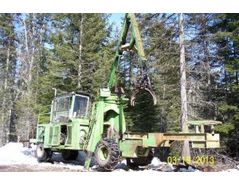 Introduced in the mid-sixties, the Hahn Harvester was the first roadside processor to hit the North American market. Designed by logging contractor, Ray Hahn, the machine was simple, affordable and productive and, when combined with a grapple skidder and feller buncher, made logging operations much safer because nobody was on the ground!
Since those days, Hahn machinery has expanded its line of forestry equipment to include shortwood processors, tree length processors, slasher merchandisers, single grip harvesters and firewood processors. Now, there are Hahn Harvesters suitable for hardwood logging as well as softwood and for thinning operations as well as final cuts. The machines are simple, rugged, and economical to own and operate and will continue to produce long after the last payment has been made.
With nearly 40 years of experience, Hahn Machinery is a leader in the development of "common sense" forestry machinery and continues to upgrade and expand its model line to suit the needs of the ever-changing forest industry.
For more than 40 years, Hahn Machinery has continued its innovative approach for improving productivity in harvesting and silvacultural applications by developing portable log merchandizing equipment, custom delimbers and processors, forestry protection packages, grapples, hydraulic chainsaws, compact slashers and firewood processing attachments for skid loaders, compact track and wheel loaders, and excavators.
In addition to manufacturing and distributing its line of forestry equipment, Hahn Machinery offers full service equipment brokerage through its Forestry Equipment Brokers (FEB). FEB advertises in trade journals, trade shows, and on www.forestryequipmentsales.com, the premier used logging equipment website, to put sellers and buyers together while working with financial institutions and transportation companies to help facilitate the process.