Hoth Grain Structures, Inc.
Hoth Grain Structures, Inc. started in 1998, with owners Tony and Cindy Hoth, in their family garage. In January of 2011, they finished building their new office and shop located at 201 Lifeline Dr. in the Sumner Industrial Park. In 2004, Hoth Grain Structures, Inc. expanded their business to the manufacturing side. They began manufacturing grain bin safety equipment, which is sold to grain bin manufacturers and grain bin dealers throughout the United States. Hoth Grain Structures, Inc. is a complete grain systems dealer, selling only quality equipment sold by leading manufactures in the industry.
Company details
View in map
Find locations served, office locations , manufacturers
Business Type:

Distributor

Industry Type:

Market Focus:

Nationally (across the country)
This company also provides solutions for other industrial applications.
Please, visit the following links for more info: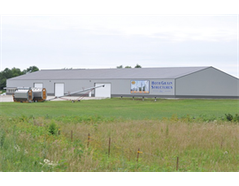 Hoth Grain Structures, Inc. provides sales, erection, service and parts for your grain handling needs. They work on farm and commercial projects. They can design systems from the ground up, reconstruction or additions to fit each customer's specific need.
At Hoth Grain Structures, Inc. customers are very important. All customers are provided with service for everything that is sold and help with system start-ups and training.