Pastro-Custom AG Pty Ltd.
Pastro Custom AG (PCA) began in February 2008 out of a passion for farming and a desire to provide the market with customised, high-quality farm equipment and machinery. Founder John Pastro has worked in the manufacturing and agricultural industries for over twenty years, with more than 20 years experience in the specific design and manufacture of spray equipment. Although renowned for their spray knowledge, John and his highly-qualified team have the expertise and know-how to custom build and modify equipment to suit any farming requirement. We specialise in vineyard and orchard sprayers, fertiliser spreaders, trimmers, de-suckering units and much more. We carry out machinery and pump services, repairs, modifications and supply a complete range of spray parts and pumps. Our machines are built strong and reliable.
Company details
76 Wakaden Street
,
Griffith
,
NSW
2680
Australia
Business Type:

Manufacturer

Industry Type:

Market Focus:

Nationally (across the country)

Year Founded:

2008
This company also provides solutions for other industrial applications.
Please, visit the following links for more info: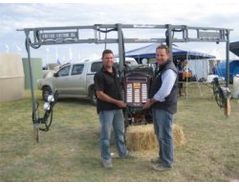 Pastro-Custom AG is an agricultural machinery design, manufacture and repair company that prides itself on high quality custom-manufactured products, service and expert advice.
We specialise in the custom design of Vineyard and Orchard sprayers, fertiliser spreaders, de-suckering units and more. Our machines are built strong to last, with great attention to detail, high-quality workmanship and materials.
We provide premium after-sales service and maintenance of our machinery. We also stock a wide range of spray parts and pumps and are proud distributors for the following:
Weedseeker

Automatic Spot Spraying technology
Collard

pruning, trimming and cultivation products
Sprayrite

Crop Protection
ARAG Australia

spray products
Weiss McNair

Nut Harvesting Equipment
Chris Forwood, Vineyards Manager at Casella Management talks about the PCA 4000l Undervine Sprayer: The Panther is '..one of our most utilised pieces of farm machinery across our 2000-acre, multi-site vineyards, due to it's superiority, reliability and sheer grunt. It's just a really well built, robust piece of machinery.'

Talk to us today about your specific farming requirements...
Best Machinery Award
In September 2008 our design and quality workmanship was recognised when together with Southern Precision in Naracoorte we developed a Two-row Linkage Sprayer equipped with WeedSeeker Automatic Spot Spraying Technology. This machine received the "Best Machinery Exhibit Award" at the annual Renmark Field Days.