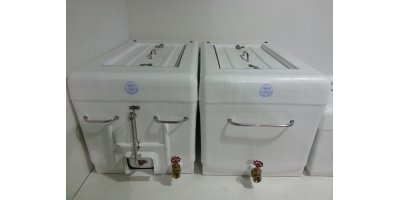 Purewell

- Transport Tanks
Purewell Fish Farming Equipment are justly proud of their range of transport tanks; not only is range comprehensive (see sizes and volumes below) but they are well appointed, as all tanks are fitted as standard with stainless steel carrying handles, full removable hatch and 2" drain valve. These tanks can also be fitted with either a Mucon-style valve complete with outlet spigot or chute mechanise and chute to aid delivery and save time.
Most popular related searches
Make no mistake, these are very robust transport tanks… This is another reason Purewell are proud of them; it is a fact that a large number of Purewell transport tanks are being driven around on trailers or in trucks by drivers who weren't born when the tanks were made!
Fully galvanised trailers are also available for your transport tank(s) to be fitted to, as are aeration/ oxygen/pumping installations.
As with all Purewell products, bespoke is the key… If the range below doesn't suit your needs, then contact the office and Purewell will discuss a truly bespoke alternative.
TT1 – 0.9m x 0.7m x 0.6m, 378 litres volume
TT2 – 0.9m x 0.7m x 0.76m, 479 litres volume
TT3 – 1.5m x 0.9m x 0.6m, 810 litres volume
TT3/3 – 1.5m x 0.84m x 0.61m, 769 litres volume
TT4 – 1.5m x 0.9m x 0.76m, 1026 litres volume
TT5 – 1.8m x 1.06m x 0.9m, 1717 litres volume
TT6 – 2.23m x 1.07m x 0.91m, 2171 litres volume
TT7 – 2.2m x 1.15m x 1.2m, 2384 litres volume
(**TT7 above is shown as external measurement but includes 50mm external foam insulation**)