Such a fresh cereal fodder production plant is also based on the GERM technology, and is characterized by an output capacity that may amount Many Tens or Hundreds of Tons Per Day to answer the needs of an industrial farm, a community of farmers or a whole agricultural region. It consists in a building that is adequately aranged, insulated and conditioned, in which the technological equipments have been installed. This solution allows a cut down of the investment per ton by 20 to 30%. Such FRESH FODDER FACTORIES are professional and industrial projects managed by a staff of specialists (zootechnician and technician) in order to optimize zootechnical performances, and to guarantee an efficient and professional running of the operation.
Most popular related searches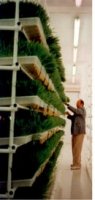 Integrated Part of an Industrial Farm (milk or meat production, breeding, ...)
On-Site Feeding Station Managed by a Public Service (City Council, public cooperative, ...) or by private investors who sell retail the green fodder to small farmers
Waiting zone of a slaughter-house (fast weight increase before slaughter) etc.
The Fresh Fodder Factory is a very profitable investment.