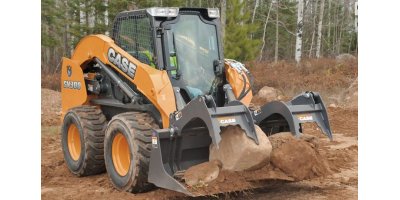 Case skid steers deliver industry-leading bucket-breakout force and hinge-pin height — plus best-in-class horsepower model by model. By any measure, Case skid steers will boost your performance and productivity.
Most popular related searches
We've Got the Power
Whatever your job, Case has a skid steer that can handle it. From our newest model, the 1,300-pound-capacity SR130, to the powerful 3,000-pound SV300*, we've got the muscle to get the job done. Our radial lift (SR) models are engineered for digging, prying and pushing, while our vertical lift (SV) models are for lift-and-carry jobs. * 3200 ROC with counterweights
Drive Systems
With the Case skid steer lineup, you can choose from standard mechanical drives or optional electro-hydraulic (EH) switchable controls. With the EH option, you can match control patterns to operator preference. Case engineers also developed our new Power Stance chassis with an up to 21 percent longer wheelbase and 30/70 front/rear weight distribution. Why? To lift and haul more material. Combined with Ride Control, our skid steers provide superior stability and operating speeds, regardless of jobsite conditions. Plus, here's one more advantage: The new Case skid steers will run all day without refueling, thanks to improved fuel efficiency and new 16- to 25.5-gallon fuel tanks.
Cab Features
Climb in the cab and you'll feel the difference. We know your cab is your workplace, so we designed an operating environment that delivers more room, visibility, comfort and control. The sealed cab significantly reduces the amount of noise and dust 25-percent-larger cabs are the widest in the industry Our revolutionary ultra-narrow, wire, side-screen design provides 360-degree visibility Case-exclusive side lighting lets you get more done — day or night
Ease of Maintenence
Ask your technicians. Case has a reputation for easy-to maintain-and-service equipment. The new Case skid steers are no exception. The new design dominates the industry's top SAE serviceability rankings with features such as easy ground-line access for daily maintenance checks. Need help? Our customer support team is on call with a Customer Assistance Hotline that operates from 8 a.m. to 11 p.m. seven days a week (except Sundays, December through March).
Attachment Options
A variety of buckets and more than 75 compatible attachments are available.
The hydraulic coupler option makes changing buckets and attachments easy, without ever getting out of the cab Optional high-flow auxiliary hydraulics Provides power needed for maximum productivity with high-flow attachments Optional proportional auxiliary switch on the handle delivers precise control of attachments Optional electric auxiliary hydraulic control provides easy fingertip control of attachments Bucket options — short- and long-lip, regular- and heavy-duty dirt buckets, utility, light-material
Radial Arm Lift Design
Available on models SR130, SR150, SR175, SR200, SR220 and SR250
Flexing,' unitized, one-piece welded chassis has several stress-relief pointsChassis can flex without cracking or breaking
Radial lift design is ideal for tasks like feedlot scraping or removing silage
Vertical Lift Loader Design
Available on models SV185, SV250 and SV300
Power Reach vertical loader linkage allows you to easily lift heavy pallets and large bales and load them precisely
Power Reach design allows for loading into high-sided equipment and over fences
Vertical lift design is ideal for tasks like loading manure into a spreader or placing items onto trailers